Preparation - On the Way - Glasgow - Newcastle - Manchester - Norwich - Bristol - Bournemouth - London - Birmingham - Oxford - Nottingham- Home

October - we start planning for the tour. It all seems nice and simple. Book cheap trains from city to city. Easy. So Heulwen & I booked a few trains at bargain prices and got all our times and plans synchronised! All sorted!
And then Andy sent me the list of hotels we were staying in. It was pretty apparent that the easiest way would be to drive. A change of plans needed then! I would drive up to Glasgow with Donna, meeting Heulwen there and then drive the rest of the tour. In Oxford Tomoko would join us for the trip to Nottingham – so that was the travel sorted, hotels sorted, friends sorted! And we were all starting to get excited!
20th Nov - Trying to think of everything I need to take on tour. So far got food, TomTom, cameras, Heulwen & Donna on the list! What else to add?
28th Nov - 10 days until the tour starts (snow permitting!) and I have some new supplies - Mountain Dew flavour lip-gloss and some Romulan Ale!! Trying desperately not to worry about the snow!!
2nd Dec - I slipped on the ice walking to work and landed on my wrist LOL! Heulwen slipped and twisted her ankle! My wrist was hurting but getting better! LOL what a pair we could have been- she turns up on tour with a bad ankle and I turn up with a bad wrist?! Great start!! Just kept all fingers crossed that we'd be ok for the tour!
4th Dec - Less than a week 'til the tour! Any sign of snow and ice going yet? Still don't know whether to drive to Glasgow or not! Will the snow clear in time? If the snow is too bad, we won't worry too much, train tix already in folder ready to bring, along with the info Andy has sent me (venue/hotel details and suchlike)
5th Dec - 2 days til I leave for Glasgow! Spending today printing itinerary, washing clothes, packing clothes & baking cakes/cookies for tour munchies! I don't usually bake so this is experimental stuff! But Mum & I tested it and all tastes good!!
6th Dec - Enuff Z Nuff cancelled their gig in Glasgow tonight.... fingers crossed Skin don't have to do the same on Wed! I'm optimistically getting ready for a drive to Glasgow tomorrow & Wednesday!!!! Please weather - be nice!!!!
Still trying to decide whether to drive or do trains.....feeling totally unorganised for this tour........
7th Dec - Think I'm all packed now, although bound to forget something! Sales sheets are done too. Just weather-watching now! I have half a day at work to decide what to do! Emails are flying back and forth between me & Donna.... and then I decide "sod it – lets drive"!
So at 1pm, I hop in the car and I'm off to fetch Donna (via Homebase to buy a shovel in case of getting snowed in!!!) It's a nice drive, no snow – but minus temperatures!! Hertfordshire is really pretty – the trees are all white and frosty.
By 3.30pm the first leg of journey is done! I've picked up Donna and getting ready to head off again. The plan is to drive up to a Travelodge on the M6, near Lancaster, stay there for the night before heading to Glasgow (or not, depending on snow) in the morning.
6pm....Stuck in traffic!! Bored now! We've been stuck here, just outside of Birmingham for a while now...... I'm tempted to divert to the NIA to see Buckcherry & Halestorm but I can't see Donna agreeing to that! LOL!
7.30pm Out of the traffic and now stopped for a break and hot food and drink! Only about 1.5hrs from our hotel now! Think we're just past Birmingham... that traffic was so slow.....
10pm - Safely in our beds in our M6 Travelodge! Praying for good weather for us for tomorrow!
8am - Just had a call from Myke, he says roads are clear & band is setting off shortly! We're already about 1.5hrs ahead of them so we can have a bit of a lie-in! Had a lovely view out the window - can see snow-covered mountains in the distance! Getting breakfast and then we'll be off!! Tip for AA Members – if you're at a Moto Services, show them your AA card and get a 20% discount! Saved a couple of pounds on our breakfast!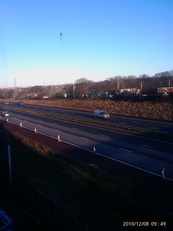 The Motorway is clear and the sun is shining!

12am - Wow it's a beautiful drive! This is one drive I won't forget – the roads are fine so far and the views of the Lake District are stunning! Everything white with snow, something we'll probably not see again as I can't imagine why I'd drive in this kind of weather ever again!!! Such a shame we can't stop on the motorway to take photos! Stopped at a services for a break and some photos!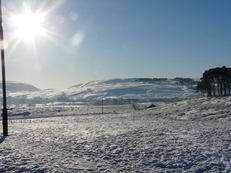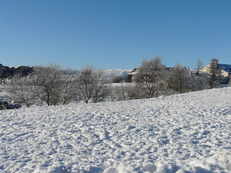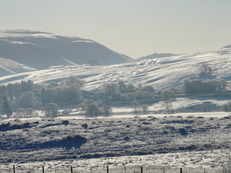 2pm – we've found the "bad" roads...... the motorway has chunks of ice on it.... but it's not too bad to drive on if we go slowly! It's about -10C though, the windscreen washers have frozen and I can't clean my screen! I have to stop at every services to clean them manually! We're doing better than Heulwen though as she's been keeping us updated on her train journey which has been beset by delays!
3pm - Hello Glasgow! We've arrived safely - now just need to find venue! We actually found it easily, just drove straight to it and into the car park! Amazingly, Myke turned up at car park at the same time as us so we went with in him! He has Matti & Colin with him so gig definitely on! It's not long before the rest of the band arrives with crew, equipment and merchandise! Heulwen arrives about half an hour later and once we've popped to Rymans to get a cash tin, we're ready!
5.30pm - Working hard! Sorting/setting up merchandise. The look but don't touch t-shirt is great! I will be modelling one later in the tour! (I have a Jagged Edge one on tonight!)
Lots of boxes and nice new merchandise!!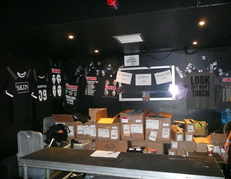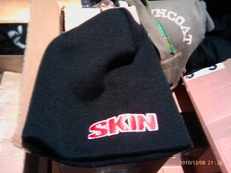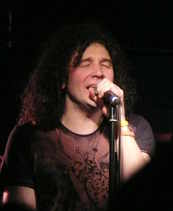 People keep wanting to buy my Jagged Edge t-shirt!!!! I enjoyed Matti's set, although saw none of Toby's and only 2 songs of Skin! We can't actually see them from the merchandise stand! But they sound good!!!!! Beanies are going down a storm – it's so cold in the venue I think people are buying them to keep warm! We've sold 20% of the stock tonight!!! It's midnight before we leave the venue though!
The journey to the hotel was funny– the roads were pretty icy and we were following the band's van. Their trailer was sliding and bouncing around like crazy – at one point we were worried it was going to bounce off their van and land on my car!!!
9th Dec - Glasgow gig was great although COLD!! Breakfast soon and off to Newcastle!!! My bed is lovely and warm though I don't want to get up!
The band all looked so cold last night! All of them wrapped up in layers and hats! At least the hotel is warmer! Not looking forward to getting back out in the snow and driving! Breakfast was good though, just what we need to give us energy to get going!
View from my window this morning! Cold and snowy!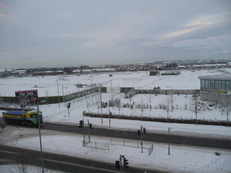 Halfway to Newcastle now! Skin On Tour! (And car needing a wash!)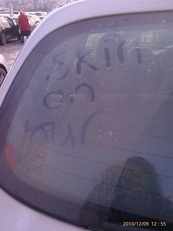 Arriving in Newcastle our first impression is not good! Coming down the hill we can see a sea of flashing lights and police in the distance. This turns out to be students demonstrating – and luckily they're gone by the time we get down the hill to the venue. There's a handy car park round the corner to the venue and it only costs £1.10! Great! Not so great is how icy the car park is – I park, then go to straighten the car and it won't move. Wheels spinning on the ice. Oops! Luckily a friendly Geordie appears out of nowhere in a van, grabs a shovel digs us out! Once we're free we move the car to an "iceless" spot which has become empty! No sign of the band at the (very smelly!) venue yet so we have time for a hot meal at Wetherspoons down the road.
Once we're full of food we head back to the venue to discover – UGH!! The merchandise stand is right next to the gents loo!! Stinky! It's also 2 flights down from the room the band will be in, and right near the other room where a dodgy Stone Roses cover band are playing. Yup - Newcastle is cold and the venue is stinky! Luckily the people are very friendly and there's a few fit blokes to look at too! LOL! BUT for goodness sake! Why can't blokes do up their flies BEFORE coming out of the loo? It's not something we want to be looking at – but where we are located we don't get much of a choice!!!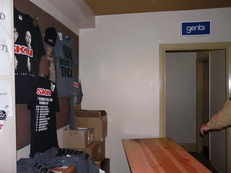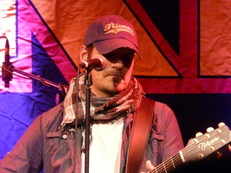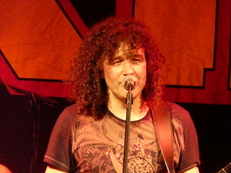 Was a great gig - although only got to see about 2 songs! But we had fun and sold lots and I have great videos of Donna and Heulwen dancing around! We also found out that there was a cctv camera pointed at the merchandise stand and the security guards were watching us singing and dancing!!!
10th Dec - Today is the Manchester gig! Which means 3 things:
a) its my niece's 6th birthday! Happy birthday T!
b) I get a shopping spree in the new MCFC CityStore
c) it's my 130th Skin gig tonight!
First it's breakfast time in Newcastle! Soon setting off to Manchester!
We stopped at a services after a while to clean the car windows – and bumped into band and crew who had also stopped at same place! Random! I got scared by Iain which was funny. :) Not that Iain's at all scary, but I just didn't see him and he popped out of nowhere saying "hello"!
We (merchandise girls) have arrived in Manchester! Having decided to leave the car at the hotel we take a taxi to the city Centre, shop (i.e. drag Donna & Heulwen into the CityStore!), and then take a taxi to the venue. Once arrived at the venue, it's time to set up shop! After the far more important task of ringing my niece to wish her a Happy Birthday of course! And selling Andy 2 beanies and a t-shirt!!! We actually have a proper merchandise area this time, no view of the stage though!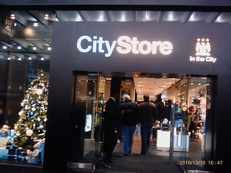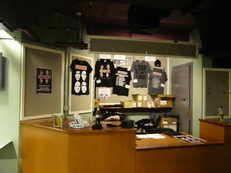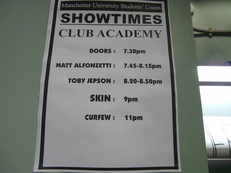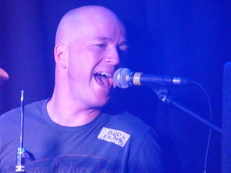 Skin are ROCKING Manchester! Great venue, great crowd!
Another great gig! Thanks Manchester! (and thanks for the compliments I got about my City t-shirt!) Myke gave us a lift afterwards so we saved on a taxi fare. Now back in hotel for a quick drink with the girls! And some chips! Yum!
11th Dec - Morning Manchester! Breakfast time! I do like Travelodge's buffet breakfast!
Unfortunately shortly after leaving Manchester the TomTom dies! The USB connector has somehow broken off inside the thing and I can't charge it now! So will have to save the battery as much as possible! Finally arrived Norwich, managing to make the TomTom battery last long enough!! Donna has to go home unfortunately – but I'll see her again in London! Now I'm being a chauffeur to take Daz to a drum shop! Think Dicki's been abusing his kit!
Jamie & Sarah are also here so great to catch up with them. Went for a wander into town with Sarah & Heulwen to see about getting food and maybe a new TomTom. Norwich is a nice place I think.

And - for the first time this tour the merchandise desk is in the same room as the stage – so we can get to see the whole show! Hoorah! And Matti played an extra song tonight, a new one! Excellent! Also get to watch Toby Jepson for the first time on the tour too! He's great! And a lovely bloke too! I loved Little Angels!
Skin were teasing us with snippets of "Raised on Radio" "Nightsong" and "Express Yourself" – so cruel! Oh – and "Mah Na Mah Na"! Sadly no full length versions!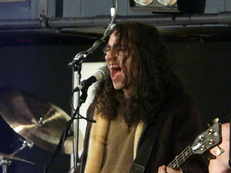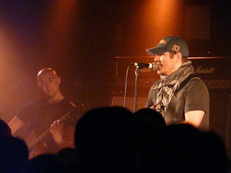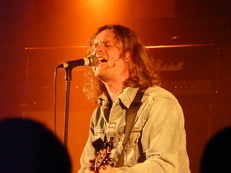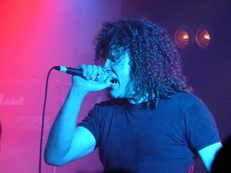 12th Dec - Good morning Norwich! Time to hit the road! Bristol here we come! TomTom is totally dead – luckily I have Heulwen who has been to the venue before and so we have no problems getting there. Checked in Travelodge! It's close enough to the venue that we can leave the car there and walk! A whole load of VW Beetles went by all done up with Xmas decorations! Now to find food/venue! Subway again! I'm loving their "veggie delight" – basically just salad in a baguette but soooo tasty!!
Arrived venue! For those that don't know – it's a boat lol! Setting up the merchandise again in the same room as the stage! I could get used to this! Lots of friends here tonight! Beanies have now sold out – I even managed to sell one to Nev! And Heulwen bought the last one!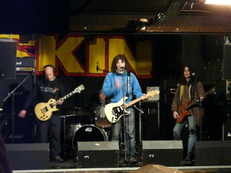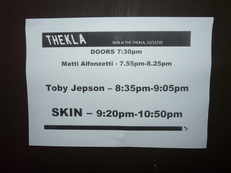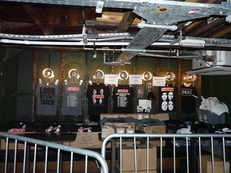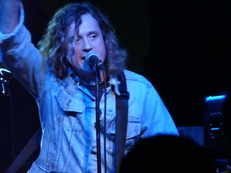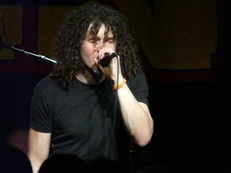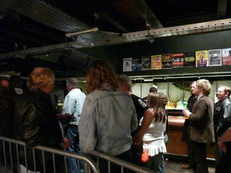 Even saw Luke Morley & Pete Shoulder watching the gig from the back of the venue! First time I saw Thunder I only went because Jagged Edge were supporting! Of course being stuck behind the merch desk meant I couldn't get out to get a photo with them or anything signed! Grrrr....
Partway through the gig – Nev's losing his voice! Shit! Luckily the fans are in fine voice and help with the singing!
We walk back to the hotel - beating the band who came in the van! It's a pretty walk and we stop to take a photo of ourselves, reflected in a huge silver ball thing!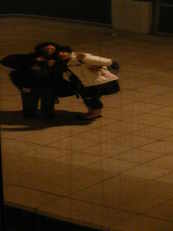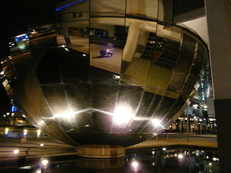 3.50am! Been sat in the bar sampling Heulwen's bottle of Disaronno! Yum! Time for bed now though! Goodnight Bristol!
13th Dec - Goodbye Bristol! Day off! I'm going home! Yay!
My own bed tonight, and my cat! Once home, sales figures for yesterday given to Myke and now I can catch up my washing and TV and relax and sleep!! Oh – and buy a new TomTom! I get a great deal in Halfords – TomTom, case & home charging kit for under £100! (a saving of £60!)
14th Dec - Nearly time to go to Bournemouth. This is my "solo" gig as neither Heulwen or Donna will be with me. It's nice and easy to get to..... or so I think. Unfortunately I take the venue details off Andy's itinerary and it's wrong!!!! I end up at the O2 Academy instead of the Old Firestation! Panic! Luckily a quick call to Heulwen gives me the correct address and eventually I make it to the venue! When I arrive I discover that Myke had also ended up at the O2 – he'd let the rest of the band know the itinerary was wrong, but forgot to tell me! Doh!
I'm out by the entrance in this venue – so no chance of seeing any of the show. But at least it's in the next room so I'll be able to hear it! Myke tried going out the front door and set the alarm off! Oops! At least Nev has a voice!!!! :) Says he's feeling much better!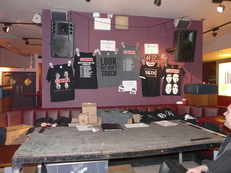 I'm lonely and missing my fellow touring girls though :'(
But it's not all bad – I got bought a coffee and cookie by Toby! And then Daz went to get me a sandwich & drink. Lovely guys on this tour! Couldn't ask for a better bunch to work with!
The best thing though was when Dicki came over to my desk while Matti was on and told me to get the security guard to watch the merch for 5 mins and come with them into the other room... so with the friendly guard watching over my stuff I followed Myke, Andy, Dicki & Colin in to the stage area. And then.....OH MY GOD! JAGGED EDGE! Or at least as close as possible with Dicki standing in for Fabio! A full electric version of "You Don't Love Me". And Matti didn't even know they were gonna do that! Fantastic. And I got to see it!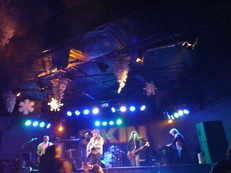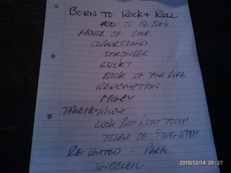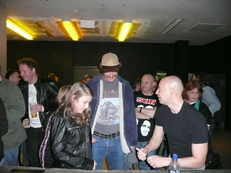 After the gig the band hang around for ages chatting to all the fans – right by the desk. This turns out to be a great boost to the merchandise sales as everyone wants to buy something to get signed! I think fans in Bournemouth spent on average more than fans at the other gigs! So Bournemouth you were amazing! Lovely people, a pleasure to meet you all and chat!
15th Dec - Off to London for shopping and eating followed by Skin! Sounds like a Perfect Day!
Arrived Camden in time for lunch - via Selfridges, Blackwell's and Holland and Barrett! Time for a quick coffee before Donna gets here! Love Camden! Such a fun place to shop! And I do like the Thai vegetarian buffet!!!!
We get to the venue around the same time as Myke – bizarrely the way to get into the venue is through the pub's kitchen!
Jamie & Sarah arrive the same time – and shortly Tomoko arrives, having just flown in from Japan – Skin fans are amazing! I take the opportunity to wander onto the stage for a photo!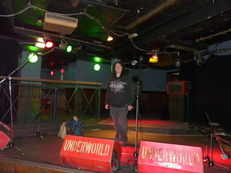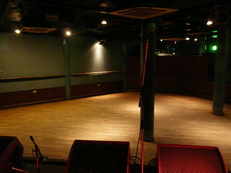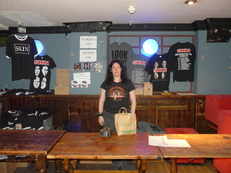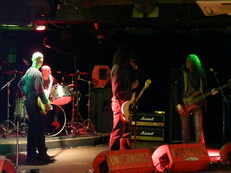 Again we're set up out in the bar where we can't see the band. But on the plus side we have lots of space!!
Phew! Mad rush on the merchandise as soon as the doors opened!!! Went down to watch Matti's set – great to watch from the side of the stage! And there were even a few Jagged Edge fans around!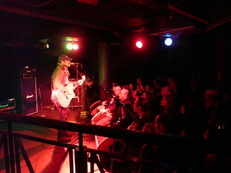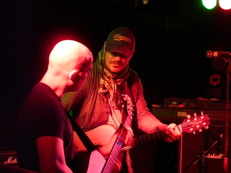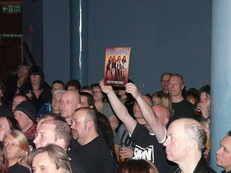 I also pop down to see a couple of Skin's songs – as always my camera is with me but this time it's so hot in the venue that as soon as I take the lens cap off the lens steams up, so no photos!
Wow London you were awesome! Great gig and lots of merchandise flying off the shelves! Thank you! Manage to get the last fast train home - bizarrely it's the Bournemouth train! Shame the gigs weren't the other way round I could just stay on this train all the way!
16th Dec - I'm off to Birmingham!! Keeping fingers crossed for no snow!!! Just checked the weather and I think we might be lucky!!!!!! It certainly seems ok so far so I could be in luck!! Hope to see a bunch of friends tonight!!
And I'm off! Running late of course! Very strange journey – snowing a storm on the motorway but as soon as I left it the snow stopped – almost like someone turned off a switch!
Arrived venue! And it's snowing!!! Parked just outside and Donna & Tomoko turn up shortly afterwards. Time to get to work then! It's very loud in here lol! But at least we can see the stage! Hoorah! Heulwen arrives around the time the doors open and I have my tour buddies back with me – double hoorah!
And within minutes of the doors opening the Look But Don't Touch t-shirts have sold out!! Sorry to everyone that didn't manage to get one!
Matti on now, suffering with the same germs that have been going round the Skin guys! And he forgot the words! Oops! We were actually in the same room as the stage this time so got to see the whole show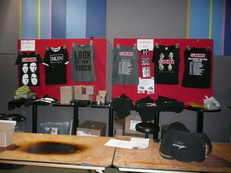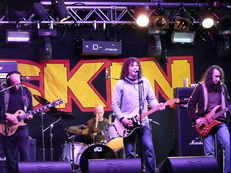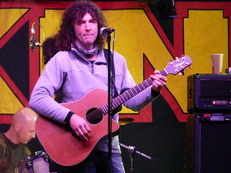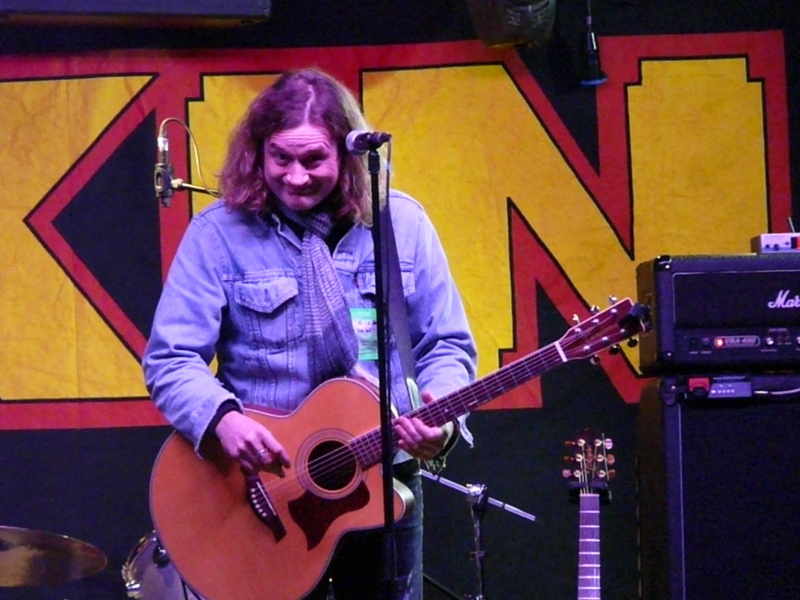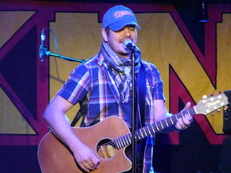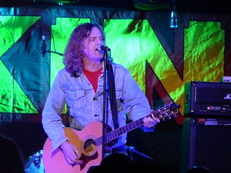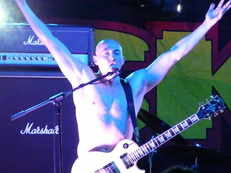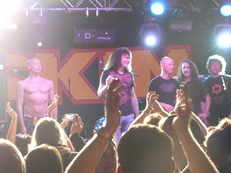 Goodnight Birmingham! Great crowd, lots of lovely people! Need sleep now though but got to get to the hotel first!! Didn't take too long and we're back in hotel after another fun night! Oxford tomorrow! Can't wait to see my brother and hopefully my niece too!
17th Dec - Hello Oxford! You're a bit snowy! Checked in early to hotel so can get taxi to venue! Tomoko arrives by train and we meet on Cowley Road for a coffee in Costa.
Brrr, the O2 Oxford is cold! Just waiting for a call from my Bro! Merchandise all set up and ready for doors opening! Our desk looks so small now that we have sold out of beanies & LBDT t-shirts!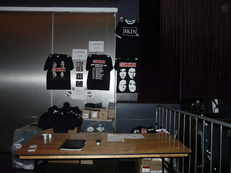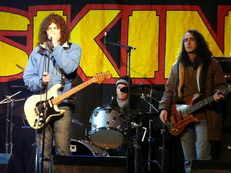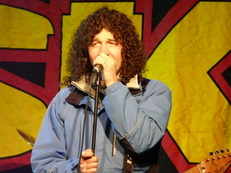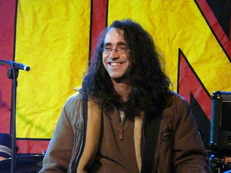 Just had a flying visit from my niece (and her parents of course!) Got hugs and she loved her Man City duck! She's just the cutest thing ever!
Aw poor Matti is really struggling tonight, but he's changing the key to help. Hope you feel better tomorrow Matti!
Lol Heulwen and I just got a round of applause for singing along with Matti during Out in The Cold!!!! Actually – it's more like Inside in the Cold, this venue is freezing and I feel really cold and faint. Luckily Iain comes to the rescue with hot water for Heulwen and strong black tea for me to warm us up and keep us going!
Yay! Nev's voice sounding much better tonight! Fingers crossed it holds til the end of tomorrow!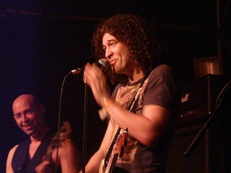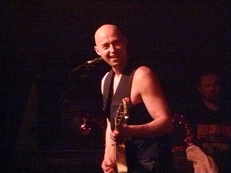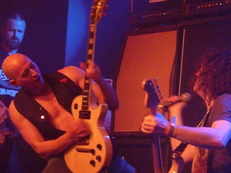 Wow! Blow my Mind! First time this tour I think!
Show over! Waiting for a taxi back to the hotel!

18th Dec - Gig going ahead! Band, crew and merchandise girls all safely arrived in Nottingham! We got out of Oxford early as it was starting to get VERY snowy!
Ah that's better! Nice hot meal in pub! Now check into hotel & get to work! See you all at Rock City later! Doors open earlier tonight, 6.30
We turn up to discover not only our boxes of merchandise but also two huge boxes of Celebrations chocolates courtesy of Toby Jepson – a thank you for selling his CD's! It was our pleasure (I blame Toby for my weight gain over Xmas, those chocolates were very more-ish!)
Lots of friends here tonight! Gonna be a great gig! Wishing other friends had made it too though :'( Snow should be banned!
Heulwen decorated the merchandise table!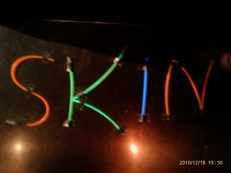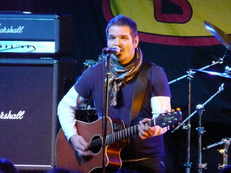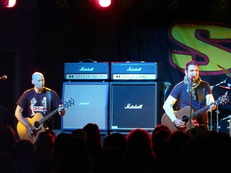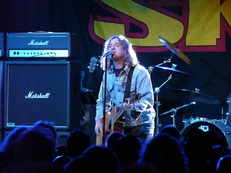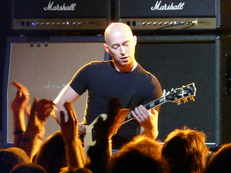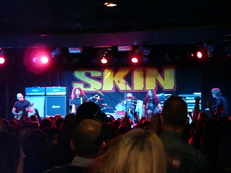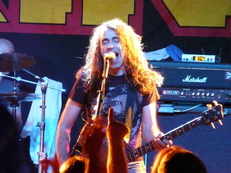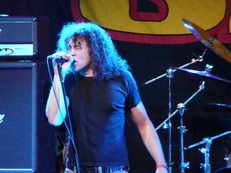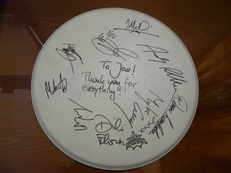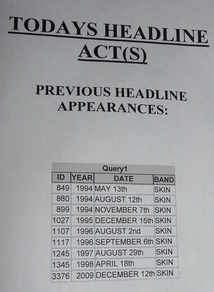 Goodnight Nottingham! It's been a great day and a great tour despite snow and germs!
Nottingham was really good fun. A great way to end the tour!
19th Dec – Home – after dropping Donna back to her house, and Tomoko to the station to get a train to central London (her flight has been delayed due to the snow! In fact she didn't actually leave the UK until Wednesday, 3 days late!)
I reset my car's milometer before setting off on tour - returning home today it shows we travelled 2123 miles in the past 12 days!!
Back to the real world! But before I get too engrossed in reality and snow I'd just like to thank everyone for the past couple of weeks, but especially Donna, Heulwen, Tomoko, Myke, Nev, Andy, Dicki, Iain, Matti, Colin, Daz, Mark, Dougie, Toby & Nigel - thanks for everything girls and guys! I've had so much fun with you all! Love you all loads! x